Vocal Training
A vocal Trainer(also known as voice coach) is a music teacher who instructs singers on how to improve their singing technique, take care of and develop their voice, and prepare for the performance of a song or other work.
Drums
A drum kit, drum set or trap set is a collection of drums and other percussion instruments set up to be played by a single player. The traditional drum kit consists of a mix of drums (classified as membranophones, Hornbostel-Sachs high-level classification 2) and idiophones (Hornbostel-Sachs high-level classification 1, most significantly cymbals but also including the woodblock and cowbell for example).
Piano
The piano is a musical instrument played by means of a keyboard. Widely used in classical and jazz music for solo performances, ensemble use, chamber music and accompaniment, the piano is also popular as a tool for composing and rehearsal.
Guitar
The guitar is a string instrument of the chordophone family constructed from wood and strung with either nylon or steel strings. The modern guitar was preceded by the lute, vihuela, four-course renaissance guitar and five-course baroque guitar, all of which contributed to the development of the modern six-string instrument.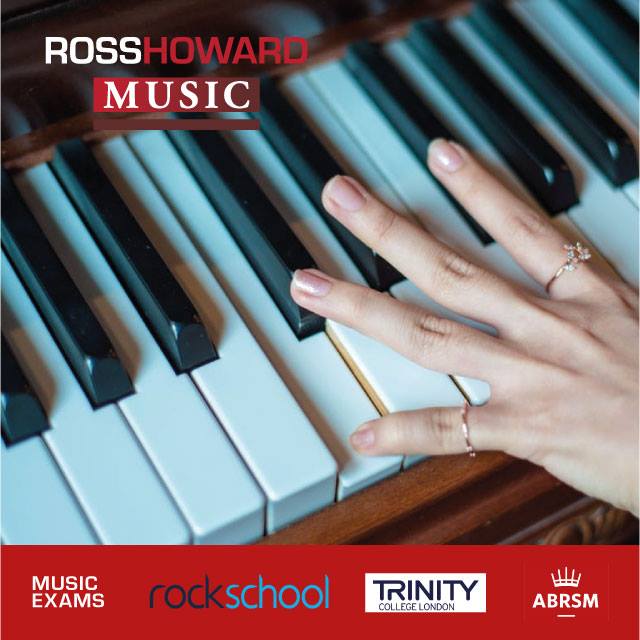 Whether you just want to pick up the guitar you've had for years but never played or you want to become a career musician, Ross Howard Music is your ideal point of call. We have group music lessons from 3-5 years old and individual lessons from 4 years old onwards.

Lessons are 30 minutes per session once a week, however we do offer longer lessons. We have group lessons available that cater for friends and family members on a similar level of learning. The eager come for double lessons weekly - it's about working on your craft!

Once you see how good you can be... the sky is the limit!
Learn Music! You will
NEVER regret it!
Learn to play an instrument today at Ross Howard Music – a place where your dream is our metronome